I have recently soothed any lingering feelings of homesickness by reading some Irish based books. Here's a list of my favourites over the past few months. They are all available on Amazon though I'm sure other outlets will see you right too.
The Guarding of Ireland-The Garda Síochána and the Irish State 1960-2014: A History of the Irish Police Force. ( Conor Brady)
This is a book that will whet the appetite for further reading. It serves as a timeline of sorts, illustrating the evolution of the force over the past 55 years or so. Essentially the timeline is ; 60-70s paramilitary activity and the border, 80s government interference and drugs arriving, late 80s onwards high profile kidnappings, mid 90s The General's various heists, 2000s onwards internal corruption. Specific cases are briefly recalled with the subsequent fallout and changes in policy listed thereafter.
My favourite sections involve the numerous ministers that served in the justice department during these years. Few if any come through it unscathed. I bought this as something I might use for reference in my own stories and I think it will serve its purpose quite well. At the end of each chapter there is a helpful listing of sources that you can dig out for further reading. It might sound quite dull to describe it as a mere document of reference. I would say it's a fine starting point and paints a very good outline of policing on the island.
Hard Cases – True Stories of Irish Crime: Profiling Ireland's Murderers, Kidnappers and Thugs. ( Gene Kerrigan)
This book is an anthology from the excellent Gene Kerrigan. A collection of stories that he would have worked on himself at the time. Some of the most serious crimes ever witnessed alongside some of the most amateur. There is actually some crossover with Brady's Garda book ( the death of a man in a holding cell in Cavan and the Border Fox kidnapping a dentist) as well as some other tragic ones ( the Kerry babies)
One of my favourites was the presidential visit of Ronald Reagan. With his lineage to the country more tenuous than the 'O'Bamas' of Moneygall there was consternation enough before his Irish holiday caused the Gardai Siochana and Army to fall under a state of paralysis for a couple of days, taking their orders from American Secret Service officers despite being in their own country.
This is a must for anyone who has a fascination for modern Irish history or true crime. It perfectly illustrates a number of truths about us. That we were flat broke for years(Ballyporeen might be still paying off the debt to the state), that religion seems a long way away from the Ireland we now know and that behind closed front doors there are a thousand great stories, often true and very violent.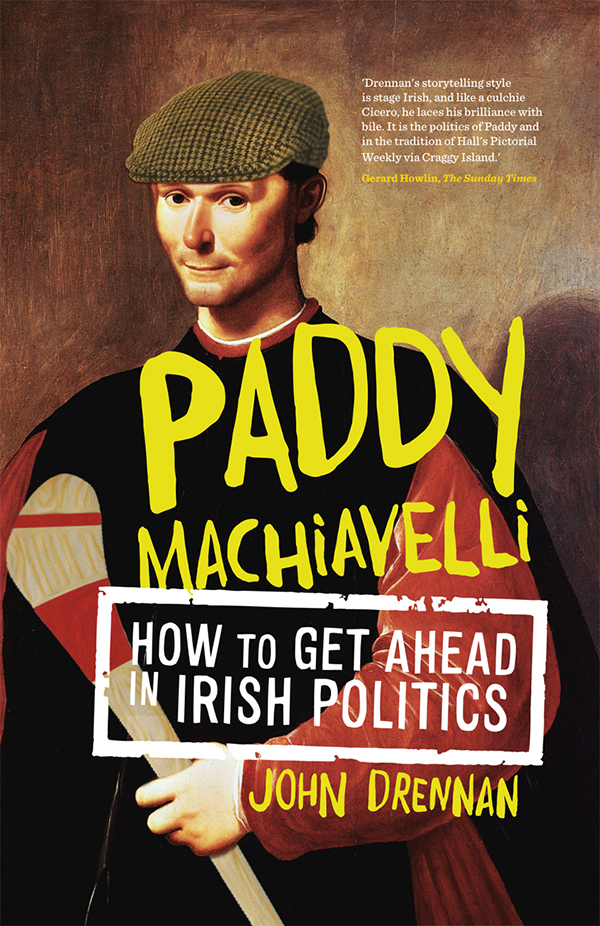 Paddy Machiavelli – How to Get Ahead in Irish Politics: An Entertaining and Irreverent History of Irish Politicians. (John Drennan)
The libel laws of modern Ireland stopped this book from being a complete warts and all tale but using a Renaissance character as our hero's alter ego gives us a suitable platform to imagine all the backstabbing and 'talking out of the side of your mouth-ing' that goes on in Irish politics( note; this device is a little bit annoying for the first ten to fifteen pages but you should be able to get used to it)
The idea of it all is to show how you get from the backbenches of a political party to the promised land of a ministerial position and subsequent ascension to the throne of Taoiseach( this is shown to be only possible as a member of the big two, sorry Labour).
Those who have long since been jettisoned out of the lifeboat of anonymity are suitably impaled on the rocks here. Haughey, Burke, McSharry, Ahern all get it. Not that it is a blueshirt love-in either. Garret Fitzgerald gets it too. With Enda and his modern version of cronyism nicely explained. I hope we see an updated version of this in a few years time.
some fiction titles…
Skintown (Ciaran McMenamin)
I remember listening to the writer getting interviewed about this with Sean Rocks on the RTE arena programme. I found him to be very down to earth and promised myself I would get around to reading this one. It tells the story of a youth in 90s Northern Ireland who ends up doing some Class A courier work for paramilitaries on the other side of the fence. The pace is kept up with nice reminiscences of the era; music references and football play a key part. I found it to be quick and enjoyable read.
The Chain (Adrian McKinty)
Not an Irish based story but rather an exciting story about a sick game being played out in the outskirts of New York State. The premise being that a child is kidnapped from a family and the only to get them back to kidnap another child from another loving family. My worst fear about stuff like this is that some bright spark will get the idea to replicate it in real life.
McKinty himself is something of an inspiration. Having tried his hand at the thriller genre previously, he had a moderately successful career before having to slum it with gigs in Uber and other places. It was only a stroke of luck and a phone call from popular crime writer Don Winslow that got him back up and running.
This book has already been optioned so expect someone like Emma Stone playing a terrified mom driven to desperate measures very soon.